INTERACTIVE WINDOWS AND MIRRORS FOR HEALTHCARE
The Future of Healthcare facilities
Hospitals and other healthcare spaces are thriving to keep everything as clean as possible. At the same time, the need for inputting and restoring data is growing fast. With our interactive products you can have an interactive glass surface as a user interface. SENSE is washable on both sides and can have an antibacterial coating. It is hygienic and modern and can be customised to fit many kinds of needs. We can build SENSE with any type of glass, so it will also meet all safety regulations. We have a long history in manufacturing glass products for clean room environments, so we know what we are talking about.
For example, SENSE can be used between operational spaces and control rooms. It can replace traditional keyboard and pc and it even works with plastic gloves on.
Seloy Live customised glass surfaces can be used for:
Patient rooms instead of a regular tv or information screen
Wayfinding
User interface for operational systems
Display for relevant information
Seloy Live products can be used instead of:
LCD screens
LED screens
Transparent LED Displays
LED glass
Media facade
Regular smart glass
Recommended products:
SHINE Interactive mirror
SENSE Augmented interactive window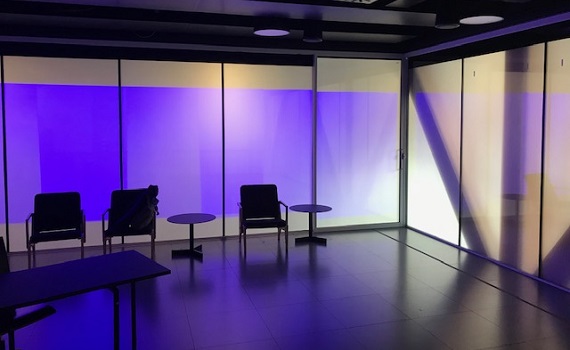 SENSE
Sense is a modern, clean and impressive way to use glass walls.