INTERACTIVE WINDOWS AND MIRRORS FOR THEATRE AND LIVE EVENTS
The Future of Theatre and Live Events
Encouraging customer interaction is what everyone is trying to do and we provide a solution for just that. With SENSE augmented interactive window you can advertise your current promotions and change them as often as you want. You can create entertaining content to really stand out or inform your customers about upcoming events. Maybe you would like to make it possible for people passing by to interact with your window, to look at trailers of the movies and to buy tickets safely via their phone.
Seloy Live augmented windows and mirrors can be used for:
Event promotions
Digital signage
Entertainment
Interactive glass facade
Brand awareness
Seloy Live products can be used instead of:
LCD screens
LED screens
Transparent LED Displays
LED glass
Media facade
Regular smart glass
Recommended products:
SENSE Augmented interactive window
SHINE Interactive mirror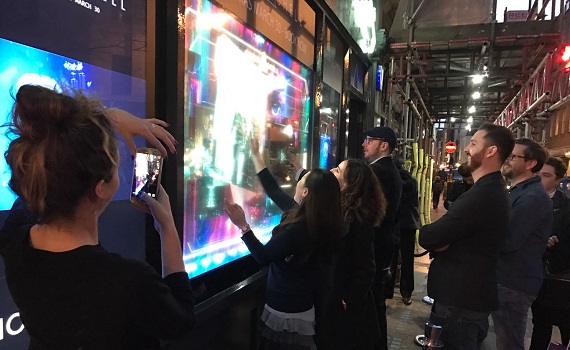 SENSE
Sense at a movie premier in London.
SENSE
Sense creates just the right kind of buzz to any event or show.