SHINE INTERACTIVE MIRROR
SHINE is a magic mirror. When the display hidden behind the mirror is switched on, its content becomes visible through the mirror. The mirror itself continues to provide flawless mirror quality even when the professional grade display is switched on, with its image still clearly visible. SHINE is also available with touch functionality for interactive applications.
SHINE INTERACTIVE MIRROR
A mirror increases the feeling of space and is a convenient interior design element, but a SeloyLive SHINE is a mirror that feels alive. You can augment the reflection with video and photo elements and with added capacitive touch technology, you can make the surface interactive. The special coating reduces fingerprints away and makes your mirror easy to clean. SeloyLive Shine is also BIG: the screen size is virtually unlimited by adding multiple frameless screens. Make your future bright with Seloy Live SHINE!
SHINE is a customised mirror solution product that augments existing professional displays –  a unique proposition that is not limited to the size or shape of a display. When the content is switched off, SHINE functions and looks just like a regular mirror. An integrated touch feature ensures that SHINE's semi-transparent mirrored glass can support up to 100 touch points with a response rate of 5 ms. It is also available without touch functionality.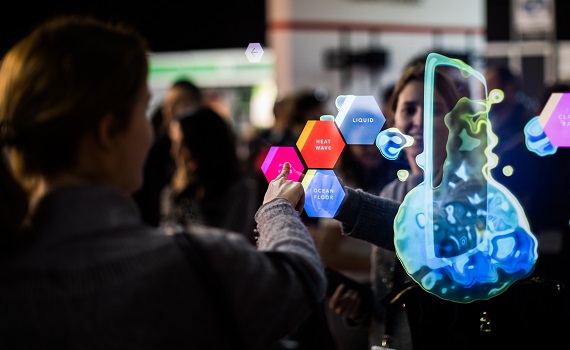 SHINE
Shine mirror combines digital content with high quality mirror. Shine is available in various sizes and shapes, with touch and without touch functionality.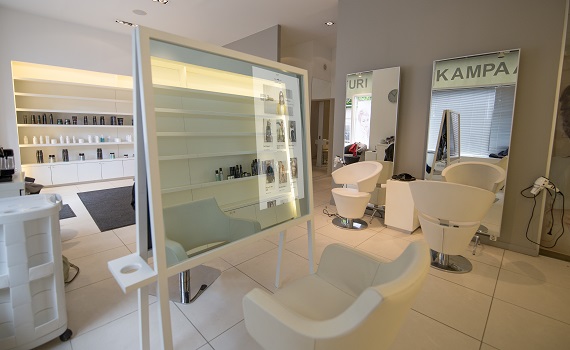 SHINE AT QTIME
Qtime is a hair salon in central Helsinki. Shine was used to increase sales and to improve the customer experience.
FEATURES
Glass size: Up to 3100×2400 mm
Glass thickness: 6 mm
Display size: Unlimited, possibility of adding multiple screens
Touch size: Up to 105″ in one touch area
Number of touch points: Up to a hundred
Response: 5 ms response rate
Touch principle: Projected capacitive
Additional hardware: Media player
OS Support: Windows 10,8,7, Ubuntu 12.04, Linux, MAC OS X, Chrome OS, Android
INSTALLATION & SERVICE
SHINE installation depends upon the customer's choice of application. The Shine unit is delivered without media player/PC, so customers need to connect the unit to a display via HDMI,and if equipped with touch, via the touch USB connector. Standard sized display solutions can be installed with standard, widely available wall mount racks. For larger mirror set ups, an installation frame can be custom made by Seloy Live.
SHINE service is mainly related to the cleaning of the mirror surface. Seloy Live can apply a special coating onto the mirror to reduce amount of smudge, and to make cleaning easier. LCD displays used are professional DS grade displays with bright images and long lifetime for years of reliable service.
Share our visions
AV resellers and integrators specify SeloyLive products for many of the world's leading brands.
Become a reseller